Hotel Ideology-&-Philosophy
Philosophy, Vision And Mission
(A Boutique Hotel)
The Vilana Hotel Ideology-&-Philosophy
Our Philosophy
We are firm believers of the traditional Indian Philosophy of "Atithi Devo Bhava". An integral part of our Indian culture supports the motion that every guest should be treated like God. Hence there shouldn't be any distinction based on the guest's caste, creed or color and everyone should be treated with all love, care and affection. Hotel The Vilana believes that each individual is unique. So too are the packages and experiences that we offer. Individual needs and requirements are considered and well taken care of.
An Abode of Divinity Speaking about Mr. Narendra Rawat, General Manager of The Vilana - (A Boutique Hotel) stands strong and resilient to lead his Hotel team ahead of the competition. He is optimistic about the immense potential of this wonderful Hotel and Team. "So the stay at The The Vilana - (A Boutique Hotel) is definitely a Divine Experience" he said. Right from the beginning, we follow all norms for the safety of the guest so that their travels trip goes smoothly and they enjoy the most magnificence sites of Rishikesh. Acknowledging the hard work and endeavours of the individuals and teams within the organization matters a lot, especially when you are mutually heading towards a goal. Our well-trained and capable staff of the The Vilana - (A Boutique Hotel) takes all the initiatives to provide broad category for various travel solutions for leisure, group, charters and small business travellers, backed by real-time travel packages with a lively, charismatic environment.
We're in the business of exceeding expectations.
Is a perfect venue to unwind and rejuvenate. An experience in luxurious Indian hospitality. Almost everything in the hotel is connected to your personally. Indulge in an unforgettable getaway The Vilana and witness the epitome of luxury. Of mountain, Ganga and luxury, culture and heritage, regalia and royalty. Rishikesh - home to the resplendent jewel, the iconic
The Vilana - (A Boutique Hotel).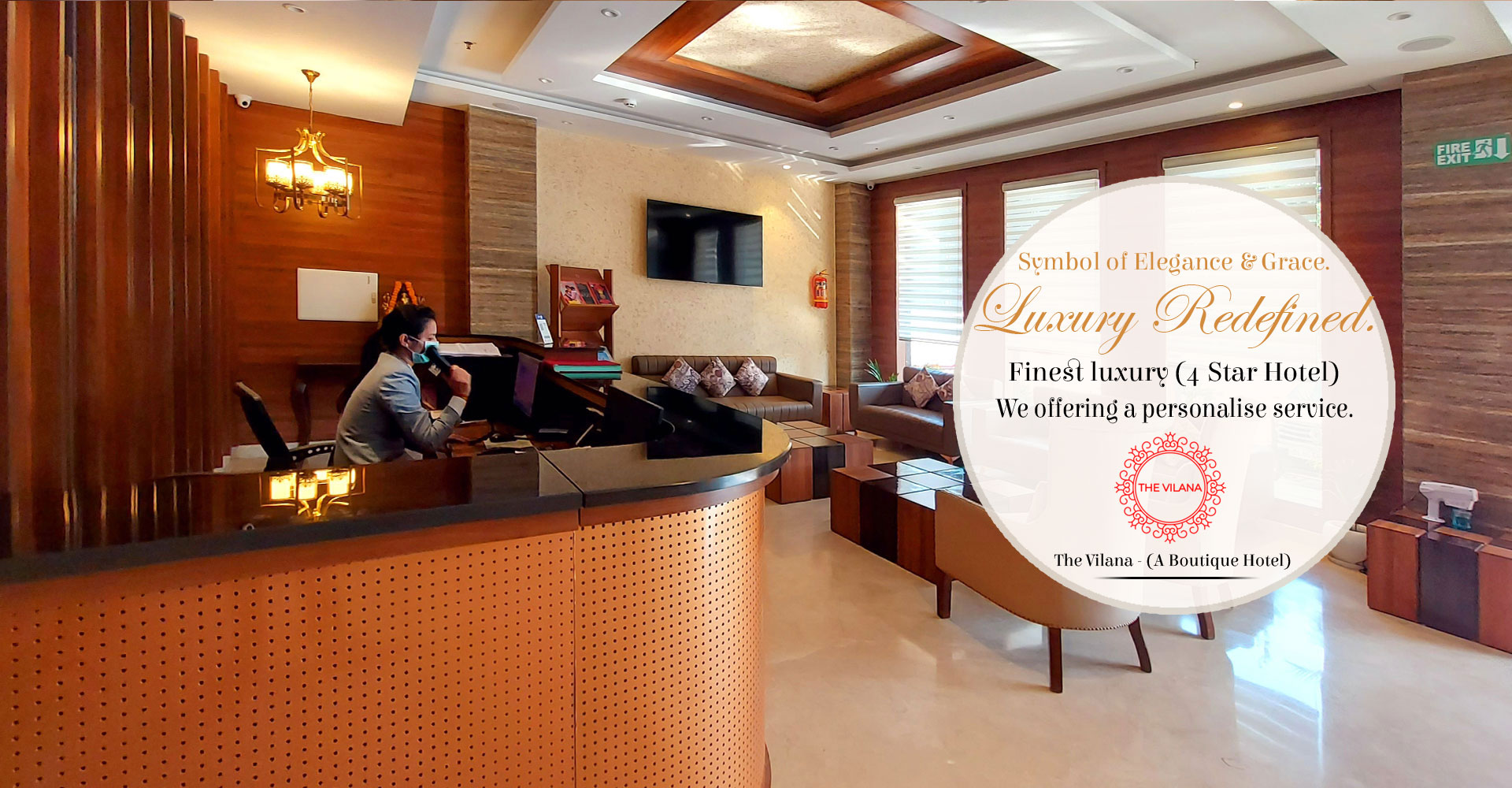 Our Mission
"The mission of The The Vilana - (A Boutique Hotel) is to provide finest lodging services and facilities with all the safety measures to our guests while providing a suitable place to work for its employees by facilitating them training, motivation and rewards. The Vilana - (A Boutique Hotel) focuses on individual leisure and business travel, as well as travel associated with groups meetings, conferencing and seminars. We emphasis high quality standards in our accommodation and food and beverage divisions".
Our Vision
To deliver an Exceptional Experience to the guest by creating and bestowing unmatched vacation and leisure memories to cherish for long with the classy and warmth of hospitality. We pride ourselves on providing high-quality services, luxurious accommodations with memorable experiences for our guests. We believe that simple empowerment strategies in the workplace inspires our team and they develop a proactive working culture to succeed and celebrate achievements.
Explore Luxury Accommodation
Crossing the river and while river flowing in full swing down under. Just imagine? Its Heart Soothing Experience In Rishikesh. At the home of indian spirituality, immerse yourself in Rishikesh. Stay with us & experience devotional rituals or find amazing rishikesh just beyond imagination. It is not just a retreat that will leave you breathless experiences in town.
Relax & Enjoy with us on your holidays @ The Vilana - (A Boutique Hotel)
We pride ourselves on providing high-quality services, luxurious accommodations and memorable experiences for our guests., We are firm believers of the traditional Indian Philosophy of "Atithi Devo Bhava". An integral part of our Indian culture supports the motion that every guest should be treated like God. Hence there shouldn't be any distinction based on the guests' caste, creed or color and everyone should be treated with all love, care and affection. Hotel The Vilana - (A Boutique Hotel) believes that each individual is unique. So too are the packages and experiences that we offer. Individual needs and requirements are considered and well taken care of.

//////////////////////////////////////////////////////////