Deluxe Rooms :- The Vilana - (A Boutique Hotel)
Perfect venue to unwind and rejuvenate yourself.
Most spacious accommodation, State-of-the-art
decor and ambiance.


The essence of Hospitality", Atithi Devo Bhava - "Guest is God"
Well equipped with elevator and other modern amenities this beautiful hotel. Specifically designed to comfortably accommodate with a sprawling city view, Deluxe Room ensures an optimal level of privacy. Our properties are uniquely positioned but are connected through a trail of peerless service. Our Deluxe Rooms are the perfect excuse to take a break.
We wish to assure you that unrelenting efforts are being made to ensure that your well-being and comfort are taken care of while staying with us. Right from our humble beginnings, Our company follow all norms for the safety of the tourists so that their travels trip goes fluidly and they enjoy the most beauty of Rishikesh. we provide broad category for various travel solutions for leisure, group, charters and small business travelers, backed by real-time travel packages.
To deliver an exceptional experience to the guest by creating and bestowing unmatched vacation and leisure memories to cherish for long with the classy and warmth of hospitality.

No. of Beds : 1 King Size Bed
No. of Peoples : 2
Room size : 220 SQ FT
AC / Non AC : Split AC
Luxuries Deluxe Rooms Decorated with luxurious fabrics and furniture.
A cozy room with a sprawling city view, our Deluxe Rooms are the perfect excuse to take a break.
This room comprises of fully air conditioned rooms with common attached bathroom along with telephone & premium toiletries. The rooms are compact and comfortable with seating arrangement for each guest. Enjoy King Size bed , work table in room with high-speed Internet access and adequate sized luxury bathroom with shower. Most spacious accommodation, State-of-the-art decor and ambiance, Ample bedding & lodging, flat screen televisions equipped with high definition digital cable service for noise free viewing. private appointments can be accommodated.
The lap of luxury. With 'Namaste' as the enduring symbol of its brand experience and 'Responsible Luxury' as the guiding premise, The Vilana - (A Boutique Hotel) are an archetype of the culture and ethos of each destination offering authentic, indigenous luxury experiences which are in harmony with the environment and society.
Very Good
517 guest reviews
This is the ultimate experience. Feel like the King of the world with your stay at our Deluxe Rooms. Exquisitely detailed modern design features teak floors, over sized mirrors & windows in a large spacious room area. These rooms are for those who love well-appointed spaces and are the first choice of most business travelers.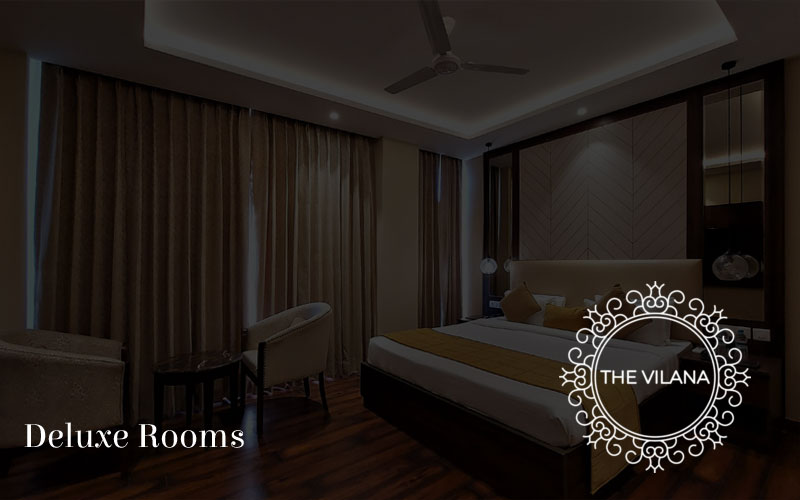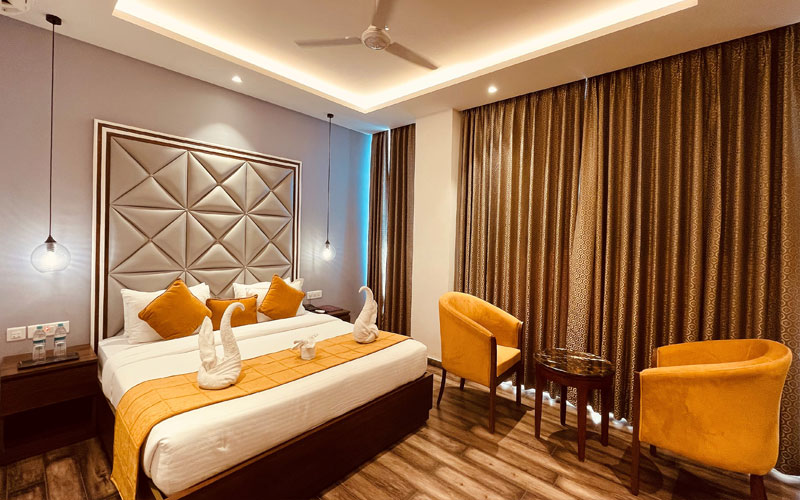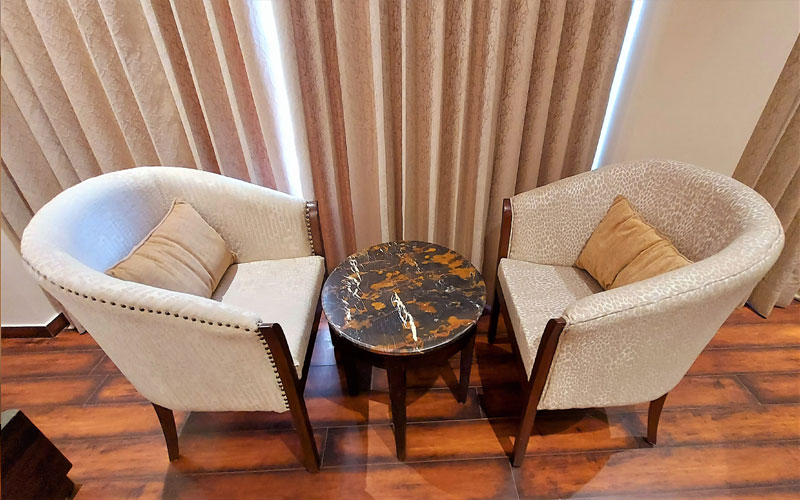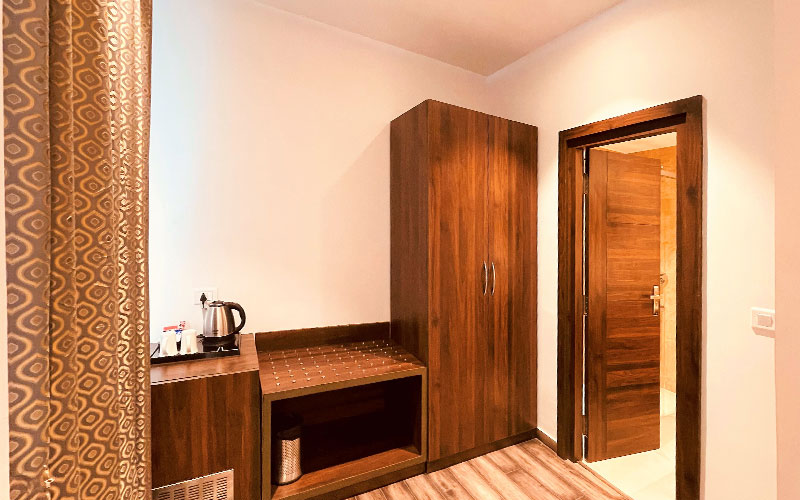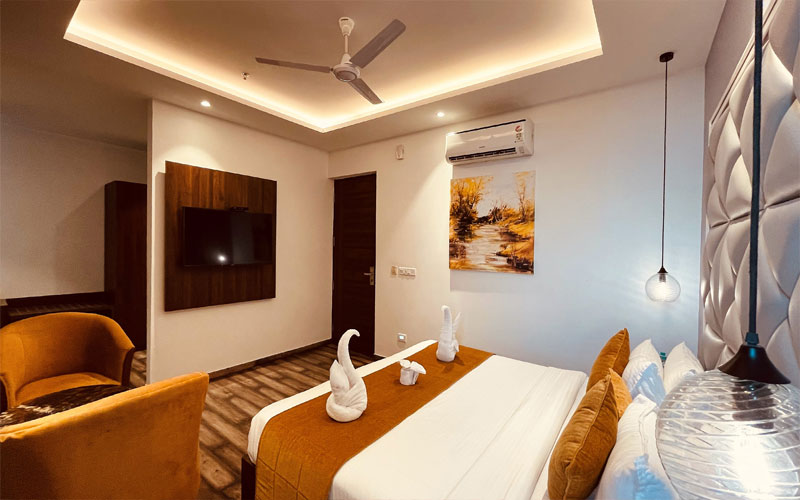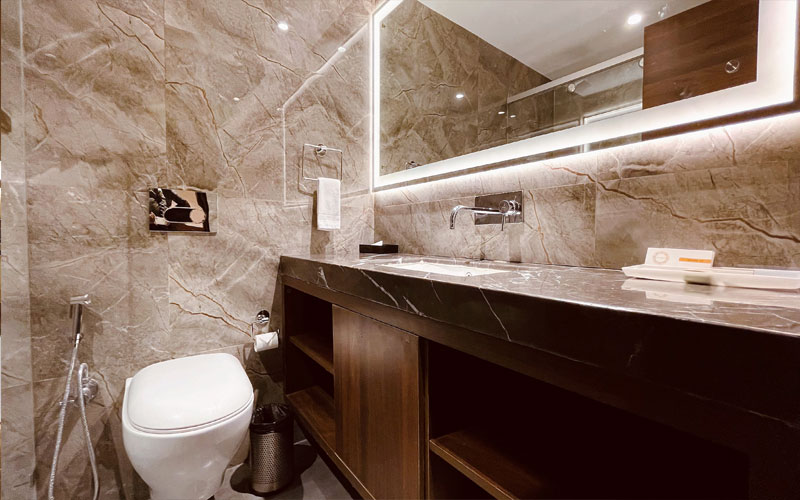 Our properties are uniquely positioned but are connected through a trail of peerless service. This is the ultimate experience. Located in the heart of Rishikesh The Vilana - (A Boutique Hotel) is a perfect venue to unwind and rejuvenate. Our Deluxe Rooms are very stylish & felted with healthy & clean madhouses on a double bed. Its contemporary styling shows a spirit of true Indian spirit along with a western styling .Room is fished with a LCD Tvs along with a attached cable. Room has the filled floor along a classic wood worn mirror, sitting arrangement table & chairs. Room also gives stunning city view which makes it an attractive package. Our Deluxe Rooms are very well furnished with a double led fathead with healthy & clean mattresses pillows & quits. Tilled floor along with classic wood work.

Deluxe rooms, are modern decorated, can accommodate up to 2 persons, totally soundproofed and equipped with high tech comforts such as high speed internet access, USB ports , smart TV, room cleaning touch system. Deluxe Room considerately and comfortably sized at 22 square meters. The rooms are designed to respond to your basic sleep requirements. City view and natural sunlight in light oak rooms. Travelers will take pleasure in the serene atmosphere.
The Vilana - (A Boutique Hotel) Well-appointed hotel in Rishikesh, that aims to offer an incomparable experience to the guest by offering a personalise service. Deluxe Rooms feature tastefully appointed King sized bed, Free internet, Coffee / Tea maker, Soundproof walls, Individually air conditioning system, Smart TV with all channels, Electronic safe box, Branded bathroom premium toiletries & amenities, Bathrobe and slippers, Hair dryer, Mini fridge many more. We're in the business of Exceeding Expectations. The Deluxe Rooms is an exclusive elegant decor rooms that comprises it's a beautiful room containing a King-size bed. The room may be occupied by two people at once. We pride ourselves on providing high-quality services, luxurious accommodations and memorable experiences for our guests.
Tastefully appointed luxuries Premium Suite 220 sq ft
This room benefits from a TV, tea and coffee making facilities, and nightly entertainment with The
Most spacious luxuries King Size bed accommodation
State-of-the-art decor and ambiance
Ample Bedding and Lodging
Check-in: 02:00 P.M., Check-out: 11:00 A.M.
In Room Dining is Available 06:00 P.M. - 10:30 P.M.
Non-smoking rooms, Air Conditioning, Elevator Approch
Hairdryers and ironing facilities are available from reception.
Important information : The price shown is based on the occupancy and dates you have searched for. Prices and availability are subject to change based on the arrival date, number of nights and occupancy searched for. All prices are inclusive of all local taxes.
Room Housekeeping & Sanitization Measures
All surfaces of rooms, restaurant, spa and other public areas are being sanitized regularly with safe disinfecting chemicals and UV sanitisation.

All above mention areas and surfaces after thorough cleaning of the room, all the areas and surfaces are carefully sanitized with a three stage sanitisation process including, safe certified chemical sanitizer, sanitizer for all corners, fabrics and surfaces.

All ventilation and air-conditioning units in rooms are also being cleaned and sanitized frequently using Steam Pressure machines. All amenities, linen, and glassware used in rooms are also being sanitised daily. Guest laundry is collected and delivered from outside the room with minimised contact. Laundry is pre-soaked with safe certified laundry sanitisation chemical for a completely sanitised process.

Facilities
Room Type

Hotel Non-Smoking Throughout

Room services

24 Hour Reception, Wake Up Call Available

Parking ( No charges In-House)

Car parking available onsite

Business

Wi-Fi Available, Wi-Fi Available In Public Areas

Dining

Restaurant Signature, (Best In City, Multi Cuisine)

In room entertainment

TV, Air Conditioner

Other facilities

Tea/Coffee making facilities in each room, Telephone In Each Room
Hotel Rules & Regulations
Welcome to The Vilana - (A Boutique Hotel). Please read with the following rules and regulations which are obligatory for all our guests. We reserve the right to deny admission, or to require a person already admitted to leave the hotel, without refund or compensation, for failure to comply with any of these rules, for unsafe, illegal or offensive behaviors, to ensure safety, security or order, or if we consider that the circumstances so require.
Guests will be charged per night. Check-in time is 2:00 p.m. on the day of arrival and the check-out time is 12:00 p.m. on the day of departure.
If upon check-in the guest does not specify the duration of his or her stay the hotel will presume it is for one night.
Guest must show up before 2 p.m., and then the booking will be cancelled if there is no contact from guest.
Only 2 guests are allowed to stay in a room. Children older than 7 years old or the third guest must pay for extra bed including breakfast. If the third guest does not wish to pay for an extra bed, a fee will be charged and breakfast will not be provided.
Bills must be settled by cash or valid credit card, Other personal cheques are not accepted. Guests wishing to check out later than 2:00 p.m. are kindly requested to ask for permission from our reception before 12:00 p.m. (subject to room availability, otherwise it will be charged for one additional night.
Cancellation of individual reservation may occur only in written forms and be sent to the hotel via email or fax. In case of booking cancellation shall undertake to Up to 14 days before arrival: no cancellation fees Between 14 and 7 days before arrival: 50% of the total reservation 6 days and less before arrival, no show and cut short stays: 100% of the total reservation.
Smoking is strictly not allowed in the hotel and violator is subject to a fine.
Inviting strangers into the guest rooms, to use the facilities and or amenities is prohibited. For security reason, joiner must register at reception before entering the room.
Ordering and delivery of food from outside our hotel is prohibited.
Hanging of any items in guest room windows that might ruin the beauty of our hotel appearance is prohibited.
Pets may not be brought into the Hotel.
Guests wishing to extend their stay beyond the date given while checking in are kindly asked to inform our reception before 10:00 a.m. on the original departure date.
Extension of your stay without reservation is subject to room availability.
No guest is allowed to give up his or her room to be used by third parties even if the room has been duly paid for.
Gambling or any other behavior that is against public morals in the hallways or guest rooms is prohibited.
Any damage should be reported to our reception immediately after it becomes apparent.
Bringing illegal items, exotic plants or animals is prohibited.
Durian or anything that causes bad smell is strictly not allowed in the hotel. Guests and other individuals using the hotel services are asked to make sure their conduct should not disturb other guests. The hotel may refuse its services to individuals who violate this rule.
Guests are expected to lock their rooms properly to prevent access of third parties. Upon leaving their rooms guests must close and lock the doors, windows. The Management will not in any way whatsoever be responsible for any loss / or damage to the Guest's belongings or any other property from either the hotel room or the locker or any other part of the hotel for any cause whatsoever including theft of pilferage.
Guests shall be liable for any damage or loss of any equipment or furniture in the rooms up to the cost of repair or replacement.
In case of loss or damage of key card will be charged in the room bill.
Items left behind by a guest will be sent on demand by post at the guest's expense to any address the guest may specify. If not specifically instructed the hotel will store such items for 15 days and then donate them to a charitable cause.
Crossing the river and while river flowing in full swing down under. Just imagine? Its Heart Soothing Experience In Rishikesh. At the home of indian spirituality, immerse yourself in Rishikesh. Stay with us & experience devotional rituals or find amazing rishikesh just beyond imagination. It is not just a retreat that will leave you breathless experiences in town.
Relax & Enjoy with us on your holidays @ The Vilana - (A Boutique Hotel)
We pride ourselves on providing high-quality services, luxurious accommodations and memorable experiences for our guests., We are firm believers of the traditional Indian Philosophy of "Atithi Devo Bhava". An integral part of our Indian culture supports the motion that every guest should be treated like God. Hence there shouldn't be any distinction based on the guests' caste, creed or color and everyone should be treated with all love, care and affection. Hotel The Vilana - (A Boutique Hotel) believes that each individual is unique. So too are the packages and experiences that we offer. Individual needs and requirements are considered and well taken care of.

//////////////////////////////////////////////////////////